retail
Off piste, on piste. Summer or winter. Our retail shop has all sorts! Whether you need something new to get you on your adventure or replace something tired or forgotten, we probably have it!
We carry a great range of jackets and pants, gloves and mittens, hats and beanies, goggles, neckwarmers, socks, sunscreens, packs, backcountry gear and more! Here's just a taste…
Skis
New to Adventure HQ this winter, Elan skis. This brand has been around for years and it just doesn't get any better. A great wood-core range that really needs to be tried … and you can! We have a selection of demo skis so you can try before you buy - www.elanskis.com.
Clothing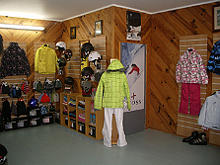 Need a new jacket or pants? Our range of Surfanic Outerwear is cool!! Awesome gear (that won't break the bank) with great features – this brand has something to suit the whole family. Cool styles and great colours come through strong in this winters range with quality that will keep you dry and warm.
It's not just what's on the outside that counts when you're out and about on the mountains. Base layers are very important when it comes to your comfort.
"Out of Bounds" has thermals to suit anyone's needs. We have a good range of Polypropylene tops and bottoms, Surfanic base layers and the ever popular Merino layers. I/O Bio Merino is new to us this winter and we like it!! Inside/outside. You decide. Either way, you'll look cool and feel great.
Street savvy and mountain wise, this range is great – check it out at www.io-bio.com.
Eyewear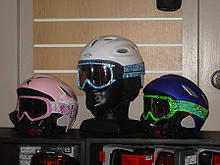 You only get one set of eyes that need to last for a lifetime so it's important to look after them. We carry a great range of goggles, including brands like Bolle, Dragon, Giro, Scott, Smith and Swan. We have styles, shapes, colours and lens types to suit everyone's needs - that includes those with prescription glasses.
Come in and check them out!
Protection
Helmets are one of the fastest growing products in the snow industry/retail world. Each year they get lighter, smarter and better priced!
A size and style to suit everybody, that's our aim. With brands like Pro-Tec, EverRide and Giro, we will have something that suits your needs. Check out the goggle/helmet matching combos – very cool!!
Remember ... if we don't sell it, we probably rent it and if we don't rent it, we probably sell it!